SmartTRAK's team of experts offer analysis on trends, insights and market recaps for subscribers.
Want to learn more about our team's expert Analysis? Here's a brief video introduction on what is covered. The full transcript is below.
SmartTRAK's team of Industry Experts are constantly monitoring the competitive landscape and assessing market dynamics on what's new, what's happening, and what could impact your business. As new technologies come to market, mergers and acquisitions take place, or new regulations or reimbursement changes take hold, SmartTRAK's Analysts are reporting on distilling critical market insight.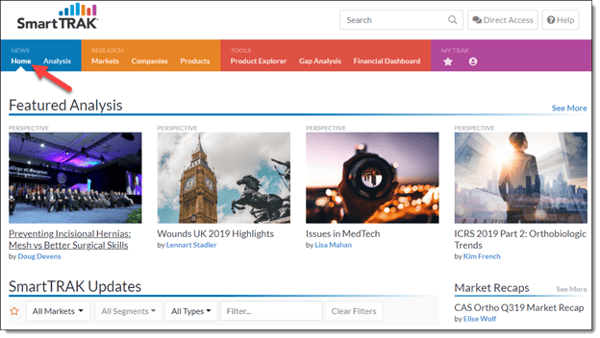 SmartTRAK's most recent analysis is located on the homepage and articles are pushed live to your inbox when published through your Updates Email.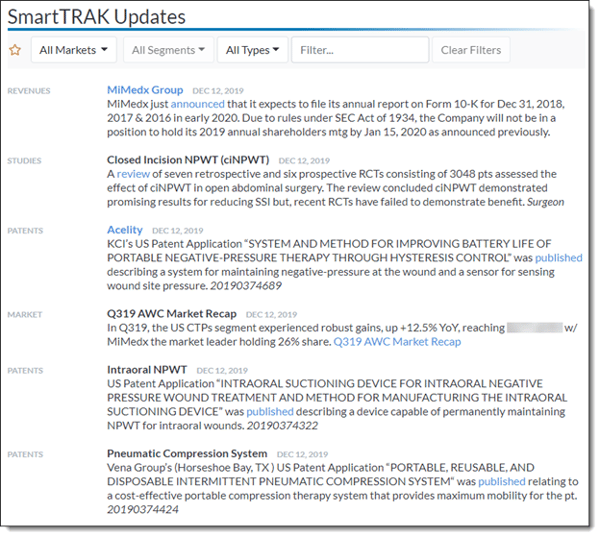 For a full listing of all analysis articles, go to the Analysis page. Here you can sort through all of our Analyst's articles by market or type.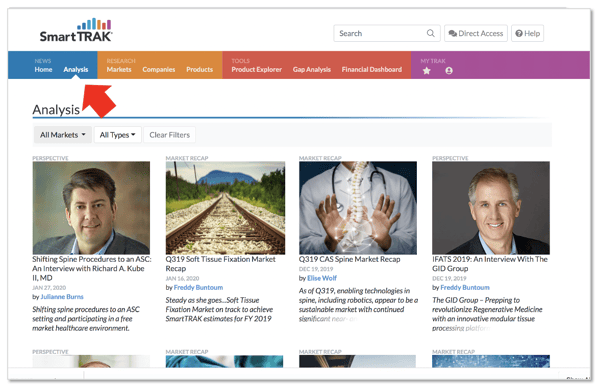 Here you can quickly filter by market and analysis type. In this example we've selected OrthoBio and "All Types".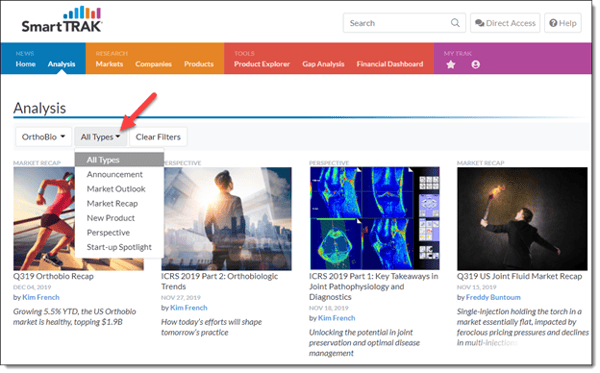 Announcements is where the latest SmartTRAK news can be found. From upcoming webinars to new modules launched.
Market Outlooks look forward on the trends and outside forces impacting the competitive environment. Typically written after a major industry meeting, Market Outlooks highlight key take-aways from a conference including new product introductions, studies and competitive activities.
Market Recaps look back at the quarter and provide a financial overview of a market including individual segment revenues and competitive shares.
New Products showcase new technologies recently introduced to the market.
Perspectives provide a deep assessment of macro-trends impacting the life sciences industry, as a whole, or a specific market or technology as well as interviews with industry thought leaders.
Start-up Spotlights highlight emerging companies with differentiated technologies. Hear directly from the CEO on strategies for building their businesses and bringing new technologies to market.